Aaahh, finally, I am writing about Austin murals! This is a long due post. In fact, I feel sorry every time I go to a new place, ideate my next blogpost, click a lot of pictures and then just don't post it – ever. And now, when I am blogging full time, I don't know what kind of excuse I have! But let's get straight to the Austin Murals.
If you Google Austin Murals, you will find tons of pages giving you Instagram goals for the perfect backdrop. My whole idea of writing this post is to take you through some of the less treaded murals in Austin in 2021!
You can either take an Austin Mural walking tour or explore a larger area from the comfort of your car. I have shared a pinned map later in the post too!
Also, I will be updating this post regularly.
Murals in Austin Tell a Story
I moved to Austin in 2019, and I have already talked about how astonishing I find this land! They say that let's keep Austin weird. Austin is a land of creative people, a paradise for entrepreneurs and culturally very diverse. Some murals have historical stories, some are part of a great marketing strategy, some are many artists' canvas, and some are just there to maintain Austin's character.
The first-ever fresco gave birth to the mural culture in Austin…
When a professor at the University of Texas painted folded hand amidst ghostly orbs on wet plaster, little did he know that he is making for future artists to make the whole city their canvas. This was in 1950. This remains one of the best Austin murals, in my honest opinion!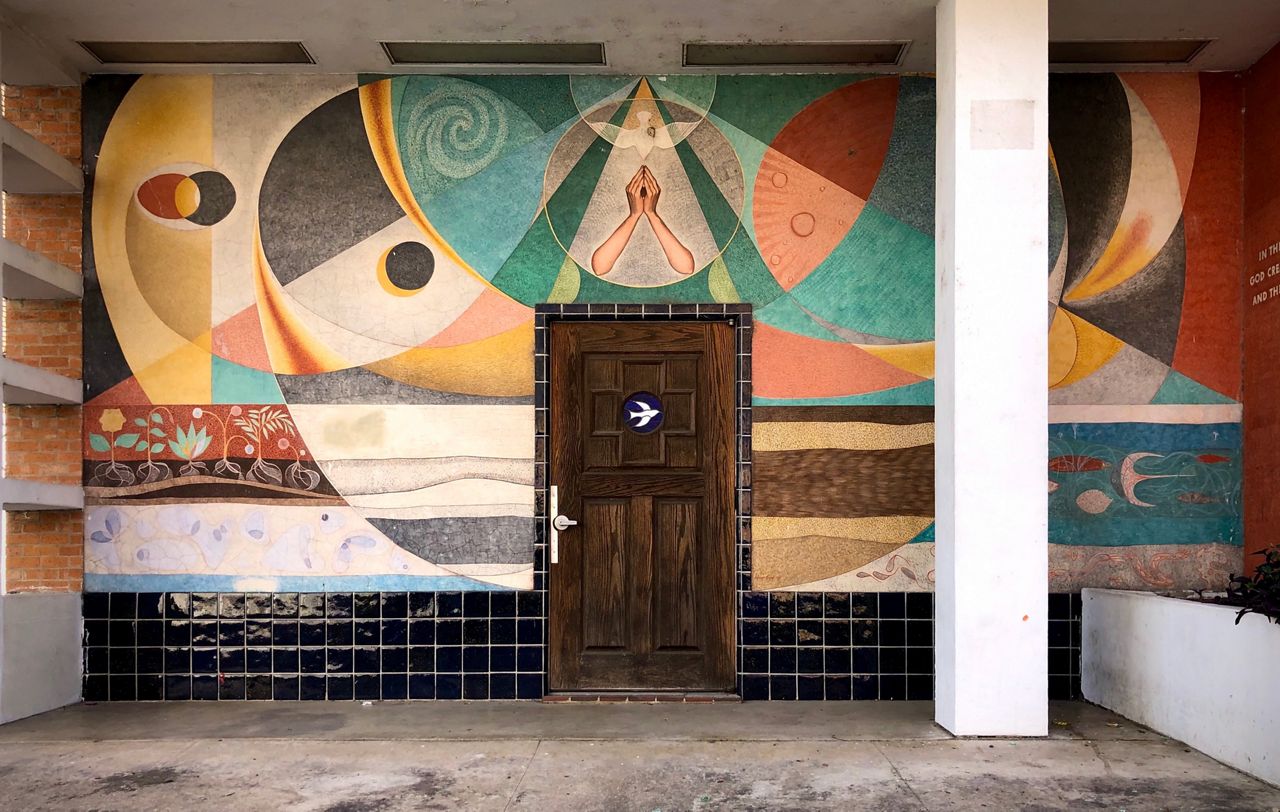 A heritage that needs to be preserved..
While you will find many murals on the street, they do pose threats from vandalization and property owners.
Every mural tells a lot of the community this city shelters. Every community has a different story to tell, and these murals are the best way to tell them.
Austin Murals on and around Burnet Road
While the murals in South Congress remain the hot places to get your pictures clicked, these murals on the Burnet Road and around it are pretty unexplored, and I love them! I am starting with them because they are literally "Austin Murals near me".
I will start with this one, a mural that tells it all!
I love ATX
You wouldn't find it on the internet. I told you the less treaded murals are my thing! I have shared the location on the map at the end of this post with other mural addresses.
The Copeland Mural
This one is not on Burnet Road, but it's magnificently visible when you drive on this Road, across the newly constructed Q2 stadium.
This is at the entrance of the parking of The Copeland apartments on the W Braker lane.
Sweet! You Are Here
I love how businesses also paint their walls so artistically and strategically at the same time. This one is at the Kelly Backing Co. on Burnet Road. I dragged bae for this picture – because this is just love!
Austin Murals on and around N Lamar Boulevard
I can walk on this street for hours and keep exploring the amazing pieces of art. It's always getting some new murals all the time!
Texan Cowboy and Landscape
This definitely is a a wall of a private home but I absolutely loved the complete Texan vibes of this mural. This is right behind the Lonestar Soccer Club.
True, Austin made me live my dreams!
Ice Cream Wall
This looks more like graffiti but this is just too cute!
Succulent Native Wall
This is another mural on one of the stores. Located in the Lamar Business Park, Succulent Native is a cute li'l plant store.
Hard Candy Wall
This lingerie store on North Lamar Boulevard has solid colored walls which are not exactly murals but give that extra pop of colors!
Weird Austin Forever
I love the creativity of this opticals store – just so amazing!
Austin Murals on and around 1st Street
This place has the iconic Greetings from Austin mural. But let's go further south!
You Make My Heart Sing
Though Threadgill's has closed but this mural still remains!
Hearts and Shoes
Just another wall!
As promised, here is your Austin murals guide..