Being a new immigrant, homesickness is something I experience as frequently as I PMS.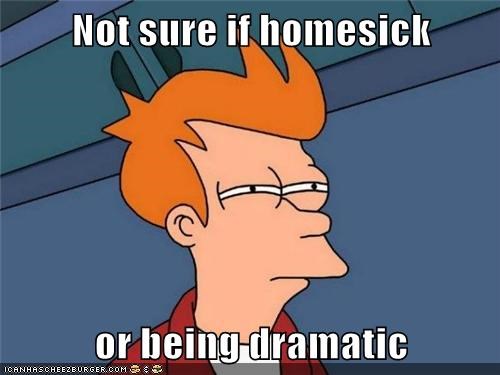 But I guess people who are living here for a long time are homesick too. There are different stages of homesickness though.
Usually, Indian families are very close-knit. For us, moving out of the house and moving so far-away is really a big deal. And thus, Indians tend to get homesick on more occasions than an immigrant from any other country I have lived with my parents for 28 years, by choice. Though I had friends who moved to different cities and I had the opportunities too, I chose my happiness of living with my parents over everything. And I don't regret any of my decisions at all.
For me, moving here became even bigger a deal because I suffer from anxiety. Separating from my home, my family, instigated some deep-seated fear and I am always in a state of worry. But I think we shall not talk about it here – that calls for a whole new post.
Homesickness kicks in during the weirdest of the scenario for me. I am not homesick during festivals but I am homesick when I eat Indian food. I am not homesick when I talk to my parents but I am homesick when I watch the 9 PM news. I am homesick when I can not watch Hotstar India on VPN.
Initially, I was more prone to the distressful thoughts because I had left my job as well. Eventually, as things settled, I had milder episodes of homesickness where good food or good movie would help in the situation. However, there are certain things for I miss my home unconditionally, but that doesn't mean I am homesick.
Also, for me, being homesick doesn't mean that I want to go back home. I have told myself that going home so frequently will not help me settling down here. Yes, I travelled back home twice in 6 months last year. But for bae, homesickness is actually about booking tickets to India. When he is homesick, he plans a trip to India. But he is usually never homesick. And whenever I sense that he might be acting up because missing home, I feed him. He is all fine! Also, for him, homecoming(going?) is a big deal!
However, if you suffer from extreme emotions, irritability and unfamiliar triggers, seek help. Homesickness is not supposed to overstay its welcome.
---
Featured Image: Photo by Yuris Alhumaydy on Unsplash